Wow, April has been a crazy month; from celebrating Holy week with three events, which culminated in welcoming a wonderful group of believers into the building to worship together in person, to yours truly spending a few days in the hospital (Thank you for all the prayers). Not to mention another close encounter with COVID-19 in our congregation. All of this has led to time flying by, and now we are coming up on May, and summer is close behind.
One of the things that the hospital did was give me time to pray and think through some of the mess this world is in, and how the church (you and I) should respond. Throughout the pandemic and the racial tension of last year, our rally cry has been to "do our best." This has carried us through so far, but as I prayed through this I realized the biggest problem with this strategy is that it puts the decisions we make squarely on our shoulders, meaning "whatever I think is best is what I will do." Instead, we need to stop thinking of ourselves and start thinking about what is best for God's mission.
God has called all of us to a general mission; making, baptizing, and teaching disciples. Everything we do must be beneficial to this mission. This note is a teaching disciples moment, teaching disciples to remember others, and encourage you all to think missionally. When you think missionally the idea isn't what makes us feel best or comfortable, but instead what provides the best opportunity for the Gospel to be shared.
Each of us has differing viewpoints when it comes to COVID-19 precautions, as well as the civil unrest in our country. I encourage you to stop looking at it as an either-or proposition and understand that even though your neighbor may differ from you, it doesn't make them your enemy. The question you need to ask is what gives me the greatest chance to witness to my neighbor and point them in the direction of our LORD.
I know what I am asking is difficult, but that's why it is a spiritual growth step. When we think of growing spiritually we often think of reading the bible, praying to God, or giving to the church, but true growth comes when we put aside our wants and desires and instead pick up the wants and desires of our Lord.
Then Jesus said to his disciples, "If any of you wants to be my follower, you must give up your own way, take up your cross, and follow me. If you try to hang on to your life, you will lose it. But if you give up your life for my sake, you will save it.

Matthew 16:24-25 NLT
So this brings us back to how we should respond, and in regards to COVID, I am going to say again, the simplest way to show people around you the love of God is to simply wear a mask. I have also taken the opportunity to get vaccinated, as many of you have as well. I know that not all of us can get the vaccine, but if the only reason you are not getting the vaccine is that "I don't want to," then I ask that you go to the Lord in prayer and ask if that is what He wants. The church should be leading the way in showing love to the lost.
What about the racial tensions and strife in our country? To that, I simply say be quick to listen and slow to speak. Wherever you fall on the issue, let your ears and heart be open to hearing the stories that are out there. Then be the children of God, and be peacemakers; hunger and thirst for righteousness, and mourn with those that mourn. Church, we have an opportunity to be a people that foster healing and not division, but that takes effort on your part.
Through all of this, I ask that you embody the commitments of our church. Join God, Submit to the Spirit, Bear with one another, Create welcome, and Serve others. If we each truly lived these out, our community would be a beacon of light that would radiate into the darkest corners of the world.
– Pastor Don
---

Serve Sunday & BBQ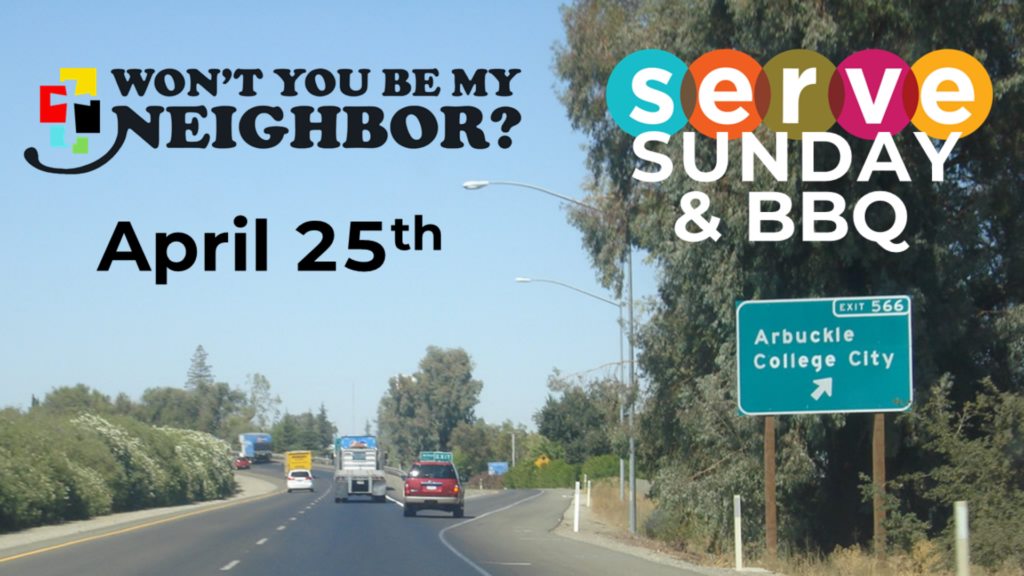 On April 25th we will be meeting at 9:30 am and heading out on mission. Taking the church to the neighborhood. We will be participating in either cleaning the park, helping the neighbors build, or passing out door hangers.
Bring gloves, rakes, or anything else you think we may need or even just a willing heart and hands, as we serve our community.
Summer Camps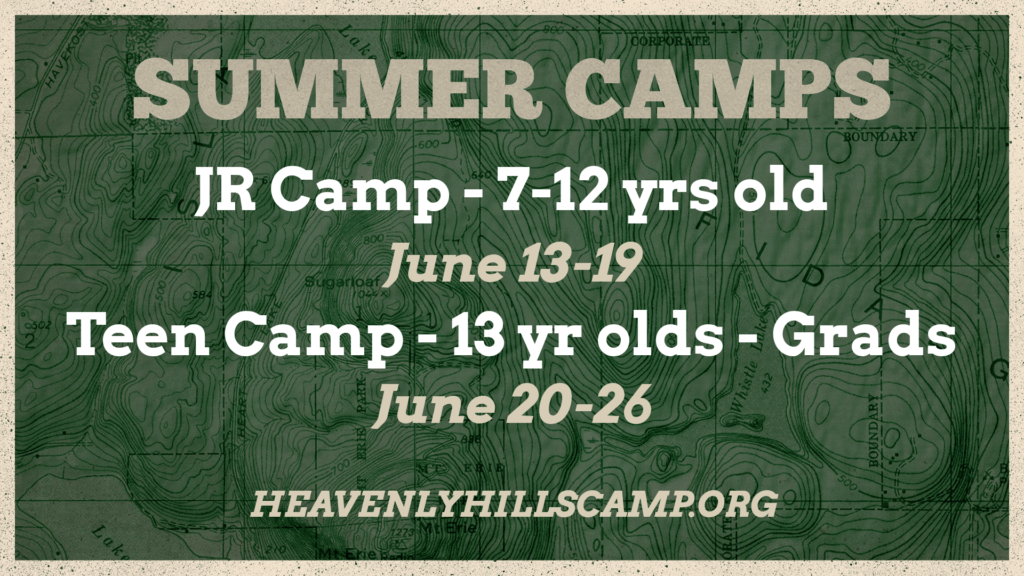 It feels like forever since we had the chance to head to the mountains. Well, we are back in action. Pack your bags, dust off your sleeping bag, put new batteries in your flashlights, cause we are headed to Heavenly Hills. Please sign up as soon as you can if you want to attend. Due to COVID restrictions, space may need to be limited. If money is an issue please let us know we have camperships available. Also if you are over 16 years old and would like to be a volunteer for Junior Camp, talk to Don A.S.A.P. Those selected will get a Teen Camp for free.
---

| | | |
| --- | --- | --- |
| Event | Date | Time |
| Youth Group | Fridays | 5:00 pm |
| Serve Sunday & BBQ | May 8 | 9:30 am – 12 pm |
| Food Distribution Volunteers | May 11 | 9:15 am & 3:30 pm |
| Board Game Night | May 15 | 6:00 pm |
| Junior Camp (7-12 yr olds) | Jun 13-19 | Leave After Church |
| Teen Camp (13- 18 yr olds-2021 Grads) | Jun 20-26 | Leave After Church |
Find more events